We are the UK leader in skip hire, waste management and recycling.
We were founded in 1984 by Nigel Woolford – who today is still the owner and managing director of LSS Waste Management – and over the years have grown to become one of the leading independent waste management businesses in the UK, working with thousands of companies and individuals every year.
Based on a 14-acre purpose built facility on Cross Green Industrial Park in Leeds, West Yorkshire, we provide total waste management solutions and skip hire services, both locally and nationally.  
We annually process up to 300,000 tonnes of waste in our Leeds-based material recycling facility, and recycle virtually 100% of it – a statistic we are extremely proud of, but one we are striving to improve.
Our service offering has been built up over the years in order to cover all waste streams, and deal with even the most problematic issues arising from disposal of waste. In addition, our ability to operate 24/7 without restrictions means we can rightfully lay claim to offering totally flexible waste management, skip hire and recycling services.
During the 35-years we have provided waste management, skip hire and recycling services, we have worked with some of the most prestigious names in business, both in Leeds and UK-wide.  We also take great pride in being one of the most customer-focused waste management operators in Yorkshire and the UK. This has been achieved and maintained by working exceptionally hard for our customers; ensuring we manage and recycle their waste in a responsible, sustainable and cost effective way.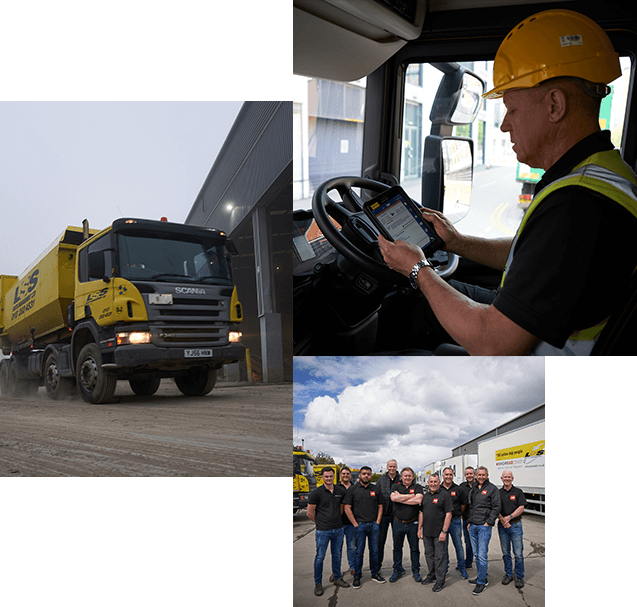 Embracing The Latest Technology
We operate a fleet of 75 waste management and skip hire vehicles, all of which are fitted with the latest tracker and camera systems (Halo) from SMUK – technology that enables us to not only give our customers accurate delivery times, but meet them; closely monitor our carbon footprint; and enhance the driver's ability to clearly see other road users, wherever they may be around the vehicle.
We pride ourselves on having a forward thinking approach when it comes to waste management, skip hire and recycling services; from the way we handle your requests, to constantly rethinking and revising our technology, safety and services.
We are always happy to help, no matter whether you're a contractor on a major building site in need of a contracted commercial waste management service, or a house owner with skip hire needs.
We are firmly focused on the future and our vision is to be recognised as a leading, strong, sustainable, innovative, technologically advanced and forward thinking waste management and skip hire business, which puts the customer at the forefront of everything it does.