Since 1984, LSS Waste Management has provided full waste management, skip hire and recycling services to many of the most prestigious businesses and projects in the country; and supplied thousands of skips to thousands of homes.
Whether you are a contractor on a major multi-million pound site, a local builder, office or a householder with garden waste to get rid of; we take great pride in being able to provide the perfect waste management, skip hire or recycling service for your specific needs.
We designed our service to deal with even the most problematic issues, and our ability to operate 24/7 without restrictions means we can rightfully lay claim to offering every one of our customers a totally flexible waste management and skip hire service.
We are firmly focused on the future and our vision is to be recognised as a strong, sustainable, innovative and forward thinking business that puts the customer at the forefront of everything it does.
Our aim today is the same as it was for Nigel back in 1984; to meet and then exceed our customer's needs.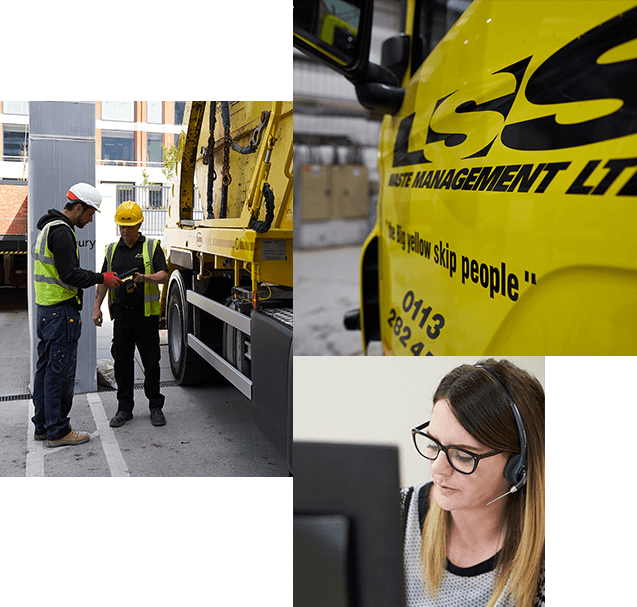 Testimonials
LSS [Waste Management] is a great company. They are easy to deal with, reliable, reactive and well-priced. I have used them for over 12 years and would highly recommend their [waste management and skip hire] services.
Joe McDermott
Project Surveyor - Construction
LSS [Waste Management] are a professional and reliable company who have a can do attitude and are always willing to help the customer.
Neil Price
Purchasing Manager
I have used LSS Waste Management for the past 10 years and have found them to be professional in all aspects of the job. I would recommend [LSS Waste Management] to anyone looking for a waste management [and skip hire] company in Leeds
Paddy McTague
Regional Buyer
Phil is the consummate professional. Extremely skilled in what he does and a pleasure to work with. Having worked with Phil as my main contact with LSS [Waste Management] for over 7 years, and seeing how he deals with his team and others, his infectious good nature and drive to achieve excellence in all that he and LSS [Waste Management] does can be seen throughout. He is a fountain of knowledge and can always be relied on for good advice.
Mark Parsons
Buyers, Yorkshire and North East
LSS [Waste Management] are amongst the most professional, cost effective and well-managed skip [hire and waste management] companies we currently use. The waste reporting system in place is second to none, which has massively reduced the resource needed to calculate and input data into the portal for BREEAM contracts."
Andrew Marshall
We use LSS [Waste Management] for all our sites nationally. LSS offer excellent service locally and nationally and have never let us down. We have one point of contact who is more than helpful and always ensures the jobs are carried out when specified. I find them very efficient and extremely competitive.
Connor Squires
LSS Waste Management has been servicing our high demanding requirements on site for several months. [LSS Waste Management] are user friendly from the sales manager to the drivers, and have a hassle free, always willing to help and advice approach. I will always try to use [LSS Waste Management's] services on sites I'm involved with.
Rob Reynolds