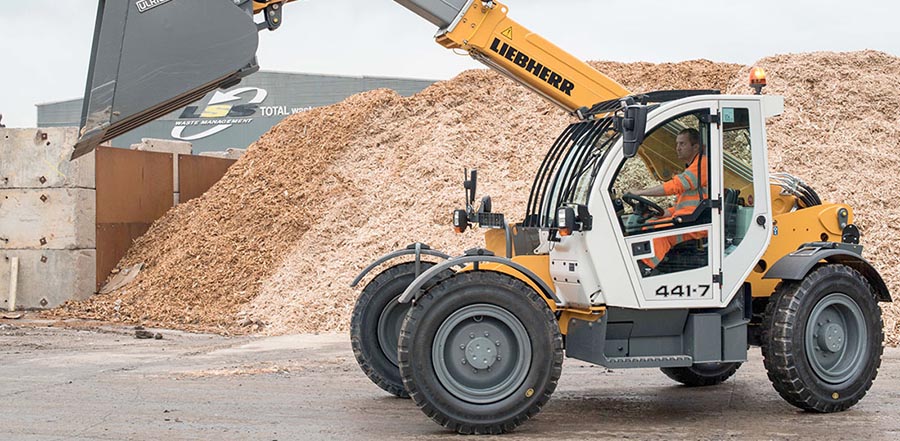 LIEBHERRS OF THE PACK
LSS Waste Management, the Leeds-based waste solutions provider has reacted to a significant increase in volumes of recycling waste it handles at its Cross Green Industrial Park headquarters by taking delivery of two new Liebherr 550 Loading Shovels and a Liebherr TL441-7 Telehandler.
The new Machines, which were delivered last week (May 16th), are worth over £400,000, taking LSS' investment in new vehicles/machines in 2017 to over £3.5million.
Nigel Woolford, LSS Waste's Managing Director, said: "The amount of recyclable waste we are handling has grown by 20 per cent over the last couple of years, and with our new biomass plant scheduled to come on-line in the summer things are only going to get busier. As a result, I didn't treat these purchases lightly, but more as a business necessity."
The new Liebherr's mean LSS now operates 5 loading shovels and 3 Liebherr 934 waste rehandlers which are all used exclusively within the company's recycling facility. Meanwhile, the Telehandler has been purchased solely to feed the new biomass plant.
"Liebherr's are one of the most expensive machines on the market, but cost is the last thing we consider when making a purchase that will be instrumental to the future growth of the business," continued Nigel.
"Instead we look at build quality, fuel efficiency and back up from Liebherr after sales service, while also taking into consideration the feedback from our machine operators who operate them on a 24/7 basis – and absolutely everything pointed to once again spending that bit more and buying Liebherr."
The delivery of the three new Liebherr's comes quickly on the back of the purchase of additional Scania Skip and Hook Loaders to the fleet, all helping to cope with continual growth.
For information about our licences and certifications, please visit the compliance page.
For information about LSS Waste Management, please visit the contact page.