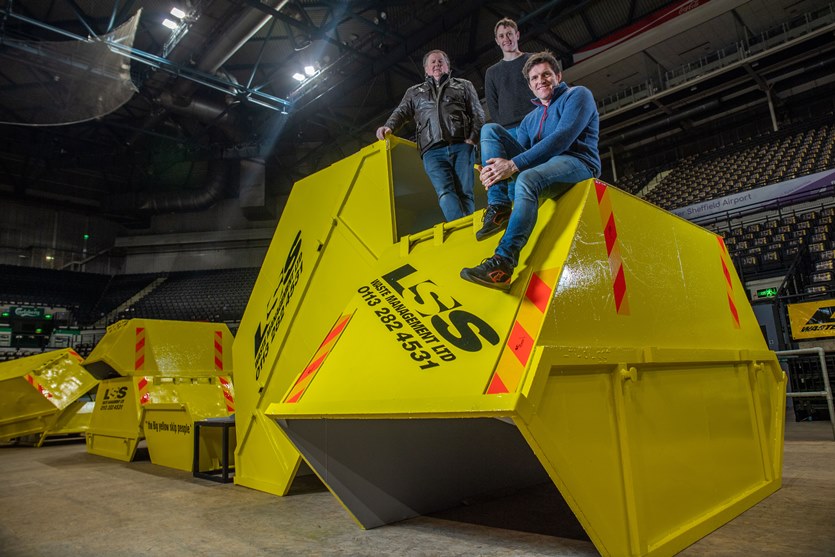 LSS GIVES 2019 A "KICKSTART" WITH SHEFFIELD MOTORBIKE TRIAL SPONSORSHIP
LSS Waste Management, the Leeds-based total waste management provider, gave 2019 a real "Kickstart" by once again sponsoring the Martin Lampkin Indoor Motorbike Trials at Sheffield's FlyDSA Arena.
The event, which took place in front of a capacity crowd in the arena on January 5th, saw the world's best trials riders congregate in Sheffield to tackle an obstacle course designed by multiple world trials champion, Dougie Lampkin and his brother, Harry.
As in previous years, a key element of LSS' sponsorship deal was the supply of a mix of fully branded six, eight and 14-yard skips, which were built into a 30m long, 3.5m high leg of the course that included a 2m high sheer wall from ground to initial platform.
Only the eventual winner, 12-times outdoor and 12-times indoor world champion, Toni Bou, successfully managed the 2m leap; but following the event a host of riders kept LSS' drivers waiting until the early hours as they worked with Dougie Lampkin on beating the obstacle.
Nigel Woolford, managing director and founder of LSS Waste, said: "The indoor trials are one of my favourite nights of the year – and definitely the ideal way to kick-start any new year."
"We've loved being involved as sponsor over the years, and look forward to continuing to do so for many years to come. Although hopefully next year, Dougie and Harry will make our section a little less impassable!"
Based in purpose built facilities in Cross Green, Leeds, LSS Waste Management provides nationwide total waste management solutions for commercial customers, while also providing residential skip hire services for customers across Yorkshire.
For information about our licences and certifications, please visit the compliance page.
For information about LSS Waste Management, please visit the contact page.