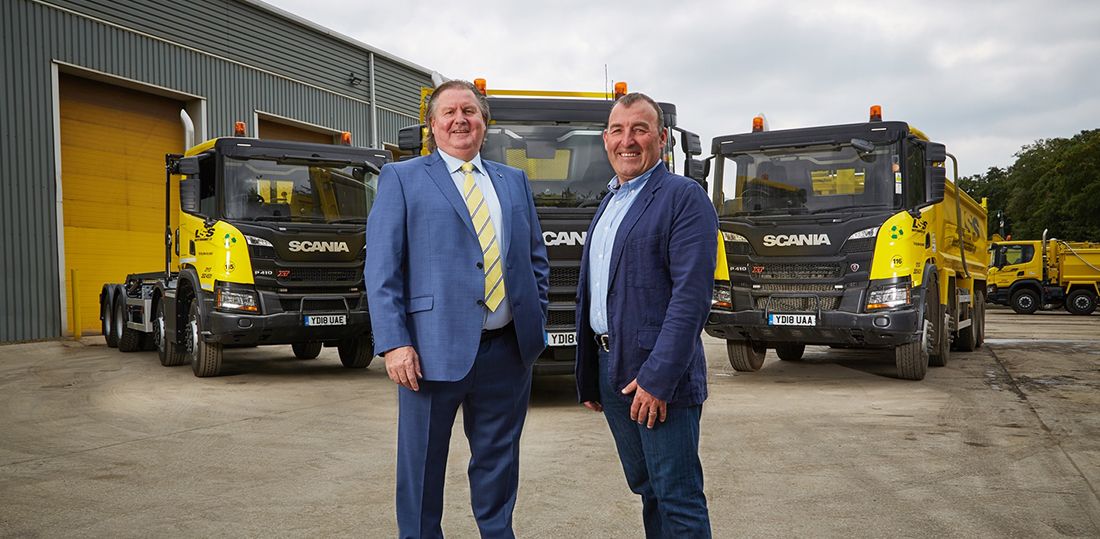 LSS INVESTS £2.4MILLION IN FLEET EXPANSION
LSS Waste Management, the Leeds-based waste solutions provider, has purchased 22 new Scania vehicles for a combined cost of £2.4million – an investment that takes the company's fleet size to 75.
LSS, which operates from Cross Green Industrial Park, has made the purchase to strengthen its operation at a time when staffing levels are at an all-time high of 150 plus, and its annual waste handling is easily exceeding 300,000 tonnes.
Nigel Woolford, managing director and founder of LSS Waste, said: "The amount of recyclable waste we are handling is growing significantly year-on-year, and the biomass boiler we installed last year has made things even busier. As such, investing in these new machines was very much a business necessity."
The first 14 vehicles of the order were delivered to LSS Waste last week and comprised two Scania XT tippers, two Scania XT hook loaders and ten Scania XT skip loaders. The remaining eight are scheduled for delivery early in 2019.
All will be fitted with Leeds-based SMUK's cyclist safety system, Halo and have been purchased on full repair and maintenance plans serviced by Scania Normanton.
"My intention with LSS has always been to deliver the very best possible service, and Scania's trucks have always lived up to this ranking," continued Nigel. "The new XT models are outstanding vehicles, that are already firm favourites of all our drivers and, thanks to SMUK's safety equipment, will be amongst the safest on the roads."
LSS Waste Management was founded by Nigel Woolford in 1984. Starting with just 10 skips, which he painted bright yellow so that they were easily identifiable as LSS skips, the company quickly gained a reputation for excellent reliability and customer service and moved from its original site to Rothwell in 1987, where it spent 18-years before relocating to its current Cross Green site. During the past 12-years, and despite the recession, LSS has overcome adversity and grown from strength to strength. It has achieved this by building on its long standing reputation with customers; developing within new markets; adding to the size of its site through additional land purchases; and adopting new recycling methods.
"Looking at LSS today, it's a million miles away from those 10 skips and one truck that I started out with 34-years ago," added Nigel. "But the business ethos is still the same – we want to deliver the best possible waste solutions service for our customers, whether it's a major commercial project or providing a single skip to a house in Headingley."
For information about our licences and certifications, please visit the compliance page.
For information about LSS Waste Management, please visit the contact page.